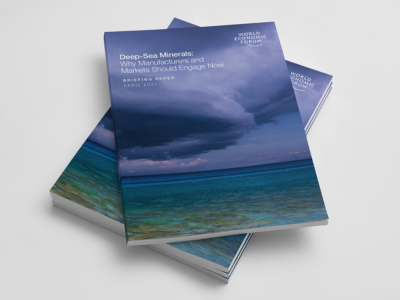 Research
21st April 2021
Deep-sea minerals
New responsible sourcing standards will be essential if deep-sea minerals are considered for supply chains
New paper identifies challenges of applying land-based responsible mineral sourcing standards to deep-sea minerals.
21 April 2021: A new paper, published today and to be presented at the 14th OECD Forum on Responsible Mineral Supply Chains, highlights the need for new responsible mineral sourcing standards as the possibility of the commercial availability of deep-sea minerals and the debate around them come to the fore.
Deep-sea minerals may be a new frontier for global resource supply. Technologies and regulatory frameworks are being developed for their extraction, and within three to four years deep-sea cobalt, copper, nickel, lithium, zinc and other metals could be inside consumer products and used within industrial processes. Whether they should be is the subject of vigorous debate.
'Deep-Sea Minerals: Why Manufacturers and Markets Should Engage Now' has been published by the World Economic Forum, written by the team at TDi Sustainability. The paper is the second in a series of three briefing papers for the Deep-Sea Minerals Dialogue, which aims to engage manufacturers that have metals in their supply chain and the market exchanges that trade them. The Dialogue is impartial and aims to inform these businesses of the importance of the topic, their stake in decisions about deep-sea mineral development, the opportunity to engage and to formulate a plan of action.
Looking through the responsible sourcing lens, the paper questions the suitability of frequently used land-based mineral due-diligence and mining operating standards, and the methodologies that underly them, for assessing risks of deep-sea minerals. 
Dr Assheton Carter, CEO of TDi Sustainability and author of the paper, explains, "The considerations for deep-sea mineral development are varied and complex. It offers the potential to bolster the supply of minerals and metals much needed for the technologies that will deliver a lower carbon economy; it also offers the possibility for societal benefits from taxation, royalties and mineral wealth distribution programmes. For some Pacific island nations, the extraction of deep-sea minerals offers a way to diversify their economies, which have been decimated by COVID 19. Yet, deep-sea mining poses considerable risks to deep-sea ecosystems. We know little about the deep-sea, its biology or about the impact extraction of minerals from it will have. The potential of species extinctions in this untouched and little-known wilderness should concern us all. How to protect the rights of communities that depend on the ocean to sustain their traditions and livelihoods, is also uncharted territory."
According to Carter, the environmental, social and governance standards available today that aim to support businesses striving to source materials responsibly, are not designed for and not easily transferable to the deep-sea context, which is wholly different to that on land.
He continues, "Take, for example, the OECD Due Diligence Guidance for Responsible Supply Chains of Minerals from Conflict-Affected and High-Risk Areas, which is invoked in US and the EU regulations. It covers roles, responsibilities, risks, model policies and recommended actions in a range of specified circumstances for each entity in the supply chain. It is a comprehensive document that has taken over a decade to develop.
"The Guidance reflects circumstances that are very different to those of deep-sea mineral extraction, however. And for businesses developing responsible sourcing strategies, there will be significant gaps between guidance designed for land-based mineral extraction and those designed for the deep sea.   
"To establish responsible supply chains for deep-sea minerals will require the development of new, bespoke sourcing frameworks and standards, and time is short for this to happen."
Winnie Yeh, Lead, Platform Acceleration, who leads the Deep-Sea Minerals Dialogue work of the World Economic Forum, adds, 
"This is a new and complex topic for downstream manufacturing brands and metal markets. Without the commonly depended-on tools and frameworks, the question of whether or not to accept deep-sea minerals into supply chains will be challenging to answer. A seabed mining contractor has announced plans to enter commercial production by 2024. At this rate, brands would be faced with an urgency to answer this question before a voluntary sourcing standard for deep-sea minerals could be developed."
"While this paper does not provide an answer, we found it crucial to raise these questions now. Instead of playing catch-up after an industry has already begun, we now have a very unique opportunity. At this early stage, before decisions about extraction are made, downstream brands have a chance to influence these decisions by relaying their views and considerations. Acting now, these responsible businesses could contribute to a future where deep-sea minerals are not extracted unless under conditions of environmental and social performance that meet their responsible sourcing expectations."
Dr Assheton Carter concludes, "The decision of whether to extract deep-sea minerals – and if so, under which standards – is of generational importance. We need to act now to involve parties at each and every point of the supply chain. An inclusive decision-making process – with the tools and knowledge to weigh the trade-offs – can help to set the right course."
Media contact
Amy Kilmister – [email protected]
Dr Assheton Stewart Carter, Ph.D 
Dr. Carter is a senior advisor to C-Suites on sustainability, compliance, standards and mineral supply chains. He is a pioneering consultant on responsible sourcing, corporate sustainability, non-financial risk, and responsible investment in international and emerging markets. He has been at the forefront of the CSR movement for more than 25 years with a focus on international supply chains in the mining, jewellery, luxury, auto and electronics industries.
He is CEO of TDi Sustainability, an advisory firm to Fortune 100 companies in Europe and the USA, and to natural resource companies in Africa, Asia and Latin America. He is the founder and board chair of the Impact Facility for Sustainable Mining Communities, an impact investment vehicle with a mission to empower rural communities through the building of viable responsible small and medium sized enterprises and artisanal mining operations in Africa and Central and South America. He is co-founder of Makal, an ethical jewellery brand. 
Assheton has launched and led a number of ground-breaking initiatives with international corporations, and structured numerous innovative sustainable supply chains, including the first fully traceable gold and diamond jewellery for the world's largest retailer, Wal-Mart and developed the only tracking system for "conflict-free" metals from the DRC used by electronics manufacturers in Europe and the United States. He is executive director of the Fair Cobalt Alliance, a multi stakeholder inititiave convening brands, battery manufacturers, mining companies, and civil society to improve the conditions of cobalt mining communities in the Democratic Republic of the Congo. 
He has published over 20 book chapters and articles and holds a Ph. D from the Business School of the University of Bath in the management or risk and in international gold and luxury supply chains.