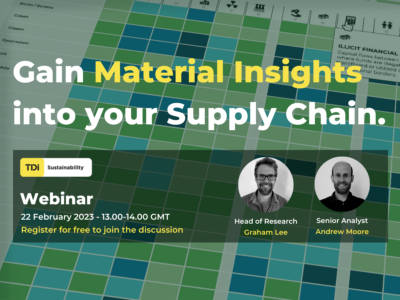 Digital
27th March 2023
Webinar Recording: Gain Material Insights into Your Supply Chain

Learn about important new updates to our free web resource, Material Insights, as well as how it can help you gain up-to-date information on global ESG issues across a growing list of more than 25 minerals and commodities, in this webinar with TDi's Head of Research, Graham Lee and Senior Analyst, Andrew Moore.
Material Insights is a TDi Sustainability initiative that provides open access to vital information about materials sourced worldwide for commercial supply chains. Created in partnership with the Responsible Business Alliance's Responsible Minerals Initiative (RMI), Material Insights offers a one-stop-shop for responsible supply chain strategy development and due diligence implementation that fosters cross-industry collaboration and drives impactful production practices throughout the world. 
This range of tools and resources allows companies big and small to make well-informed decisions, which help create environmentally and socially responsible supply chains that are economically resilient.
Watch the webinar now: