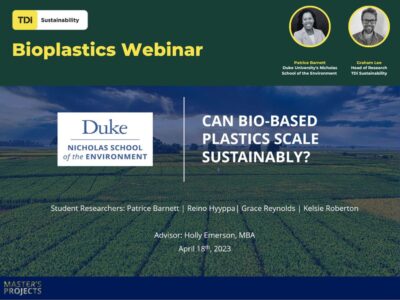 Digital
25th April 2023
Webinar Recording: Can Bio-Based Plastics Scale Sustainably?

Bio-based plastics represent a potential alternative to the use of fossil fuels in the traditional plastics supply chain. However, the upscaling of bio-based plastics faces challenges, including concerns over competition with food production, a lack of consumer understanding of bioplastics, and difficulties achieving cost competitiveness with traditional plastics.
A project team of four – Patrice Barnett, Reino A. Hyyppa, Grace Reynolds, Kelsie Roberton – Master of Environmental Management students at the Duke University Nicholas School of the Environment, partnered with TDi Sustainability to explore these challenges and assess the potential for the sustainable scaling of bioplastics production. 
After conducting desk-based research and interviewing ten stakeholders in the bio-based plastics space (producers, buyers, certification services, and non-governmental organizations), the Duke University team identified key focus areas for bio-based plastic supply chain stakeholders, to foster sustainability. 
This webinar, which took place on Tuesday 18th April – 3pm BST, was an opportunity to explore and learn from the team's findings and discover insights on the potential upscaling of bioplastics with sustainability at the core. 
Watch the webinar now:
Connect with us on LinkedIn
For the latest news, data and insights from TDi Sustainability and their associates.