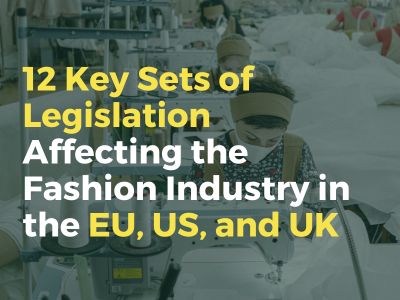 Fashion
16th November 2023
12 Key Sets of Legislation Affecting the Fashion Industry in the EU, US, and UK
Sustainability-related legislation is rapidly evolving, and businesses in the fashion industry must adapt to stay compliant. In this guide, we break down 12 key sets of legislation from the EU, US, and UK and explore how each will affect business requirements and reporting in the future.
The EU Corporate Sustainability Due Diligence Directive (CSDDD) mandates due diligence on environmental and human rights impacts. It applies to all companies operating in the EU or linked to its supply chains. Affected businesses must conduct due diligence on their operations and supply chains, ensuring social and environmental responsibility. Those supplying to companies-in-scope will also be indirectly impacted, potentially requiring them to meet stricter sustainability standards.
Effective from January 2023, the CSRD extends non-financial reporting requirements to more companies. It aims to standardise sustainability reporting and foster responsible business practices. The CSRD will require businesses to adhere to European Sustainability Reporting Standards, which the European Financial Reporting Advisory Group develops. Companies-in-scope may request suppliers to support their reporting process, potentially asking them to align with these standards.
The New York Fashion Act proposes environmental and human rights due diligence for fashion sellers in New York. Fashion brands doing business in the state must focus on sustainability, supply chain transparency, and reducing their environmental impact. The proposed act would require fashion sellers to conduct due diligence on their suppliers, impacting tiers one to four. Suppliers may face requests for information to support this mapping process.
The EU Forced Labour Regulation prohibits products made with forced labour from being sold in the EU market. Fashion brands must ensure their supply chains are free from forced labour. This impacts all products entering the EU market, regardless of the industry. Companies may strengthen their due diligence programs, request "no forced labour" declarations from suppliers, and seek contractual assurances to ensure compliance.
This Act establishes a view that goods produced in China's Xinjiang Uyghur Autonomous Region are made using forced labour. Fashion brands importing goods must, therefore, prove they are not associated with forced labour, emphasising due diligence in their supply chains. Suppliers may need to implement effective due diligence policies and processes and properly document them to avoid goods being held at US customs.
This regulation sets requirements for product durability, reusability, and recyclability. Fashion brands must focus on designing products with a reduced environmental impact and increased circularity. Suppliers should expect increased data requests from companies-in-scope to meet the disclosure requirements, covering product durability and energy efficiency.
The EU Packaging and Packaging Waste Directive addresses issues related to packaging and packaging waste. Fashion brands can adapt their packaging materials and recycling practices to comply with evolving requirements. In addition, suppliers could face pressure to source biobased, biodegradable, and compostable plastics for packaging to reduce environmental impacts.
This regulation aims to reduce the release of microplastics into the environment. Fashion brands must reevaluate product formulations and packaging materials to minimise the environmental impact of microplastics. Manufacturers, importers, and downstream users will also need to ensure their products adhere to the regulations and provide relevant instructions to avoid microplastic releases.
The UK Plastic Packaging Tax encourages the use of recycled plastic in packaging. Businesses must incorporate more recycled plastic into their packaging to avoid the tax and promote sustainability, and the relevant suppliers should be aware of the tax's impact on the cost of plastic packaging and the need for human rights due diligence in sourcing recycled plastics.
The Product Environmental Footprint (PEF) Guide measures the environmental performance of products. In line with this Guide, companies will need to assess and improve their products' environmental impact and disclose this information to consumers. In conjunction, suppliers may face increased data requests related to environmental impact assessments, resource efficiency, and circularity.
This regulation controls fibre names and related labelling for textile products to ensure accurate and compliant labelling for brand products. Companies in scope of this regulation should expect requests for specific labelling and information on the types of fibres used, subject to independent verification and brand assurances.
The EU Taxonomy defines sustainable economic activities and requires businesses and suppliers to align their operations and products with these standards to attract environmentally conscious investors and consumers. Therefore, the value chain may experience indirect effects, such as increased transparency and data requests, even if the reporting obligations do not directly impact them.
As sustainability-related legislation continues to evolve, businesses in the fashion industry must prioritise environmental and social responsibility. Adhering to these legislative changes ensures compliance and meets the growing demand for sustainable and ethical products in the market. It is crucial for businesses to adapt proactively and integrate these regulations into their operations and supply chains if they are to thrive in this new era of sustainability-focused legislation. If you would like more information, such as compliance recommendations, disclosure requirements, penalties and impacts for the above set of legislation, get in touch with the TDi team.