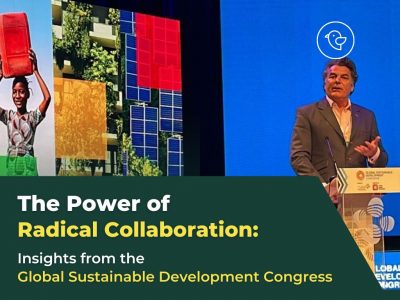 Strategy
7th June 2023
The Power of Radical Collaboration: Insights from the Global Sustainable Development Congress
At the Global Sustainable Development Congress (GSDC), TDi Sustainability's CEO, Assheton Stewart Carter, was invited to present one of the keynote addresses, during which he highlighted the importance of higher education in shaping sustainable development. With an acknowledgement of the Middle East's commitment to sustainability, Assheton emphasised the need for strong global collaboration between industry and academia, with Sustainable Development Goals (SDGs) remaining the central focus.
The Call for Global Action
From 30 May to 1 June 2023, the GSDC assembled over 1,600 global innovators and thought leaders. Challenging conventional thinking on the roles of higher education, governments, businesses, and society, the congress called for a global commitment to impactful outcomes aligned with the United Nations' SDGs. Through immersive sessions, inspiring case studies, and collaborative workshops, delegates explored the transformations needed to achieve these goals, forging alliances and scaling up solutions for real impact.
A Key to Sustainable Progress
With TDi's extensive reporting and research, Assheton presented the idea of radical collaboration as a powerful tool to address the systemic nature of sustainable development problems. He stressed that no single sector can address these issues alone, and that collaboration among diverse sectors and organisations is essential for progress. At the congress, Assheton represented TDi's strategic partnership, bringing together participants from various organisations such as the Clean Energy Buyers Association, Christian Aid, Women In Mining and Regenerative Development Group. Along with TDI, this diverse collective demonstrated the potential for cross-sector collaboration and progress.
Navigating the Challenges of Collaboration
Despite the clear benefits of collaboration, Assheton acknowledged the inherent challenges when each sector has its own agendas and mandates. He emphasised the need to recognise these differences and find ways to collaborate effectively, ultimately addressing the complex nature of sustainable development problems. "By overcoming these challenges, we can harness the power of collaboration to achieve the SDGs and create a more sustainable future," Assheton added.
Embracing a Holistic Approach to Sustainability
During his keynote, Assheton called for a shift from reductionist, deterministic problem-solving to a more holistic approach. He explained that focusing on individual components rather than the entire system will not yield effective solutions. Drawing on philosopher and psychiatrist Ian McGilchrist's work, Assheton highlighted the importance of understanding and addressing the bigger picture. He used the metaphor of "putting out a kitchen fire while the whole house is burning down", illustrating that by concentrating solely on individual issues, we risk missing the broader context of sustainable development challenges.
Assheton's insights offer valuable guidance for those striving to advance sustainable development. "By embracing radical collaboration among different sectors and organisations, we can tackle the complex, systemic issues that underpin sustainability challenges. Although collaboration can be difficult, it is essential for achieving the SDGs and building a sustainable future. By adopting a holistic approach and addressing the broader context of these challenges, we can make significant strides towards realising our collective goals."
As the Global Sustainable Development Congress came to a close, TDi was invited to a roundtable discussion to formulate a call to action for industry collaboration. As these collaborative efforts take shape, they will be presented at the United Nations General Assembly in New York, further solidifying the importance of radical collaboration and a holistic approach to sustainable development.
Unlock the Power of Collaboration with TDi
Discover the transformative potential of collaboration by reaching out to TDi Sustainability. Our expertise in sustainable supply chains and industry and our dedication to helping clients commit to the UN's SDG will provide you with actionable insights and powerful strategies tailored to your unique needs. Join the growing movement of global innovators and thought leaders embracing a holistic approach to sustainability, and let's drive real change.