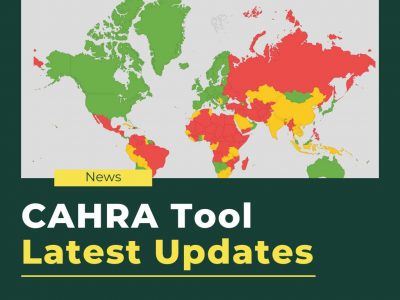 Digital
2nd August 2023
Latest Updates to the CAHRA Index: TDi's Commitment to Supporting Supply Chain Due Diligence
Responsible sourcing and ethical supply chain management are paramount in today's interconnected global marketplace. To uphold sustainable and regulatory practices, companies must ensure they do appropriate due diligence on their supply chains and ensure risk is mitigated. Our free CAHRA Index tool has become invaluable in aiding businesses with responsible sourcing due diligence practices through measured, statistically-driven assessments.
In response to the growing global risk landscape and increased demand, TDi Sustainability has updated our CAHRA (Conflict-Affected and High Risk Areas) Index with a two-step approach and refined risk factors.
"Global risk is increasing, and companies must adapt in an evolving world and consider what the top level of risk means for due diligence, especially when a business is operating in numerous countries and needs to screen over a thousand suppliers." our TDi analysts commented. "Our CAHRA Index is a vital tool for staying up-to-date with these increasing risks and preparing for the potential impacts."
Accompanying our 2023 risk update is a refinement of TDi's CAHRA methodology. Our new approach offers a nuanced, multi-dimensional view of risk that considers diverse factors such as:
1. Armed conflict
2. Governance and strength of the rule of law
3. Human rights violations
Each country's CAHRA rating is based on TDi Sustainability's CAHRA Index score, which has been used to determine which countries are assessed as having a low, moderate or high risk of being a CAHRA. Our TDi CAHRA Index is assessed using a two-step process:
Step 1
Initial TDi CAHRA Index: A weighted average of different country risk indices is calculated for all countries.
Step 2
Adjusted TDi CAHRA Index: An in-depth analysis is performed on the CAHRA status of all 'boundary' countries near moderate and high CAHRA risk thresholds.
TDi's unique two-step approach promises continued, robust and precise risk assessments that will aid our clients in making informed sourcing decisions.
The Significance of Responsible Supply Chain Due Diligence

Responsible supply chain due diligence is more than a legal or ethical requirement; it is a strategic business imperative. Companies prioritising responsible sourcing can reduce potential negative impacts on human rights, the environment, and local communities. Notably, it can safeguard a company's reputation and brand value, appealing to consumers who are increasingly conscious of sustainability issues.
The Role of the CAHRA Index in Risk Management
The CAHRA Index serves as a crucial component of companies' risk management strategies. Businesses can proactively implement mitigation measures by identifying high-risk areas and engaging with suppliers to improve working conditions or find alternative sourcing locations. The Index also aids in complying with international regulations, like the OECD Due Diligence Guidance, which stipulates that companies should suspend or discontinue engagement with an upstream supplier when they identify a reasonable sourcing risk linked to the negative ethical impacts mentioned above.
How to Use the CAHRA Index
The TDi CAHRA Index is accessible to everyone on our website. Users can explore an interactive map or static table that displays risk ratings and scores for each country. We take pride in being transparent and going beyond other indices by providing a risk rating and a numerical score for each country. On the interactive map, users can simply hover their mouse or tap their finger over a country where it will list that county's score. Alternatively, users can switch to the table format to view all information in one place.
While the CAHRA Index is a powerful tool in its own right, TDi Sustainability is continually expanding its offerings to address broader supply chain risks. Our ongoing efforts include developing a commodity risk map that considers other critical factors such as deforestation. Additionally, our comprehensive TDi Search 360 tool, alongside consulting services, helps companies take concrete steps to mitigate risks and achieve responsible sourcing goals.
Sustainable Decision-Making

Responsible supply chain due diligence is an indispensable aspect of modern business practices. The TDi CAHRA Index is a pioneering tool in supporting businesses' efforts to achieve ethical and sustainable sourcing practices while enabling companies to align their sourcing practices with global sustainability goals. By mitigating harmful sourcing from high-risk areas, companies can positively impact communities, promote economic development, and ensure human rights are upheld.
By utilising our innovative tools and methodologies, companies can confidently navigate the complex landscape of global risk mapping. If you would like to find out how to get the most out of the CAHRA Index for your business, get in touch with us.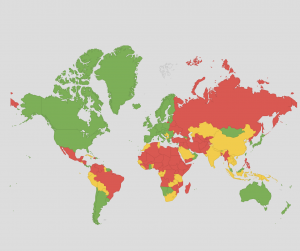 Use TDi Sustainability's CAHRA Tool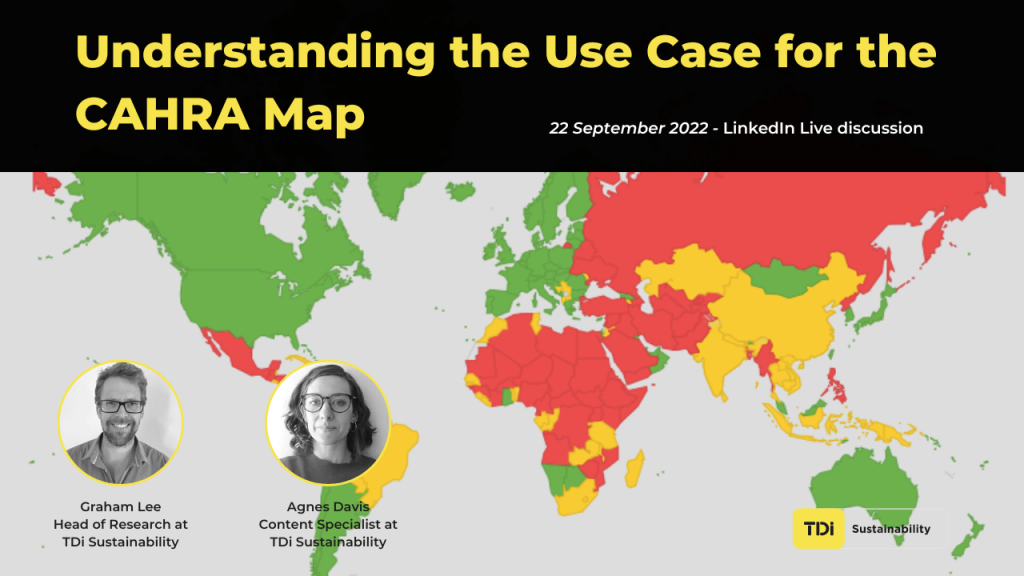 Webinar Recording: Understanding the Use Cases for the CAHRA Map