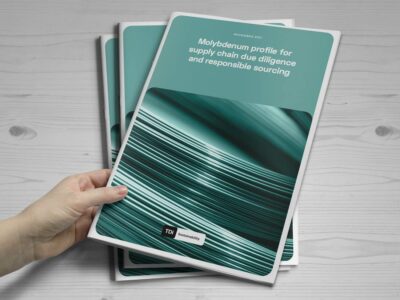 Material Insights
30th November 2021
New publication: 'Molybdenum profile for supply chain due diligence and responsible sourcing'
Today we are launching 'Molybdenum profile for supply chain due diligence and responsible sourcing', a paper from TDi Sustainability, produced in collaboration with the International Molybdenum Association (IMOA).
The objective of the paper is to provide materials' specifiers, standards-setters such as CopperMark and Responsible Steel, steelmakers, manufacturers, and civil society organisations with a clear understanding of the molybdenum supply chain. It reports on the environmental, social and governance aspects impacting the supply chain and the current responsible sourcing standards, certifications and initiatives that are applicable to molybdenum.
Assheton Carter, CEO of TDi Sustainability, said: "Given the increasing scrutiny around environmental, social and governance implications of heavy industrial activities, particularly those involving large-scale mining, this paper provides timely and practical guidance on voluntary standards for everyone involved in the molybdenum supply chain. We are pleased to have applied our expertise in responsible sourcing and ESG issues to provide support to organisations across the steel and wider non-ferrous metals industry with their decision-making."
IMOA's Secretary General Eva Model commented: "This paper is an important part of the molybdenum industry's objective to ensure responsible sourcing is embedded across the global supply chain. It reflects the significance the industry places on being open, transparent, and operating responsibly. The guidance it provides will be hugely beneficial in helping the molybdenum supply chain make informed decisions."
You can access the paper here.
About IMOA:
IMOA is a non profit trade association, representing the majority of the molybdenum industry worldwide. It works to raise awareness about the unique properties of molybdenum, its beneficial effects on materials performance, its safety in use and its contribution to sustainable development. IMOA has a strict antitrust compliance policy which delegates of all meetings are required to observe. All such meetings are observed by legal counsel.