Case study
Risk Readiness Assessment
An online benchmarking tool, commissioned by Apple and the RMI, designed to encourage the adoption of sustainability best practices in the mining and minerals processing supply chains.
Business challenge
TDi Sustainability was approached to devise a solution to assess social and environmental risks in mineral extraction and processing, and the industry's challenges to appropriately manage such risks for downstream companies due to the size and complexity of international supply chains. In addition to the difficulty of reaching suppliers beyond the first tier, supply chain levels, the standards, initiatives and certification landscape is highly fragmented when it comes to responsible mining and minerals processing. A comprehensive new approach to address these challenges was required, and we were brought in to design, develop and make available tools to promote a common understanding of best practices and a means to consistently assess and manage risks in the raw materials supply chain.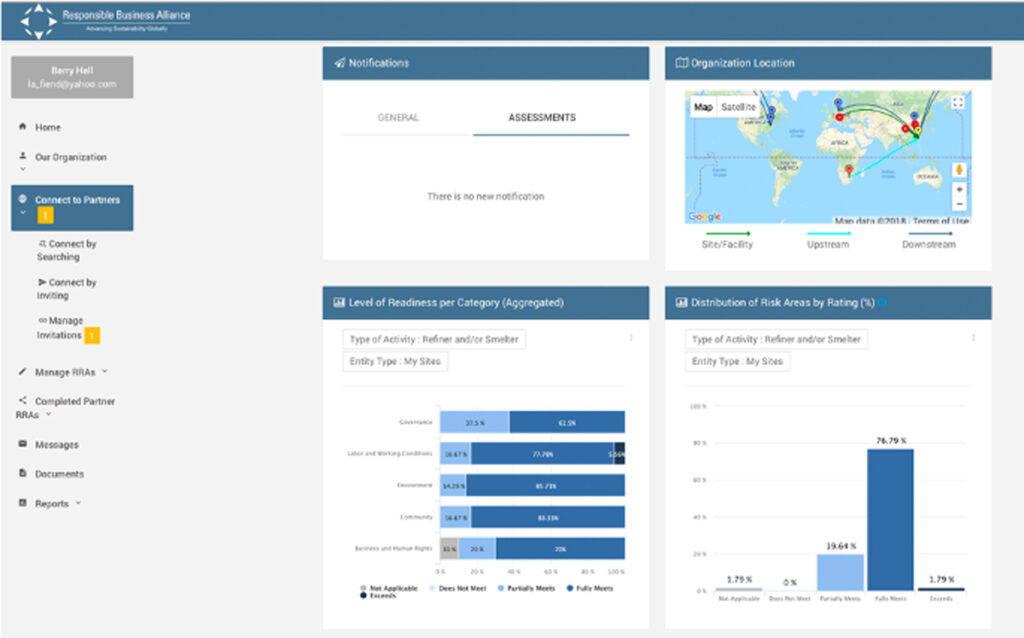 Approach and deliverable
The Risk Readiness Assessment (RRA) is a cloud-based self-assessment and due diligence tool that has been piloted with hundreds of entities in mining and minerals-processing supply chains. The RRA enables:
Supply chain managers to engage with first, second and third tier suppliers around the awareness and adoption of compliance requirements and best practices.
Minerals and metals producers and manufacturers to communicate their risk management practices and performance to their downstream customers against existing standards.
The identification and reporting of best practices among businesses in the mining, minerals and metals supply chains.
The Risk Readiness Assessment incorporates TDi Sustainability's Standards Comparison Tool, an analysis of over 50 industry standards that identifies the industry operating norms for 31 key sustainability issues in the mining and metals industries.
This tool allows supply chain managers to compare sustainability practices and standards used by businesses in their supply chains and identify which materials and geographies are applicable to which standards. It also facilitates understanding between businesses at different points in the supply chain of their sustainability practices, promotes dialogue between businesses to achieve greater sustainability impacts, and encourages harmonization of standards between voluntary initiatives.
Client benefits and broader industry impact
The Risk Readiness Assessment, used in conjunction with the Standards Comparison Tool, covers all materials and mined commodities and is applicable to all businesses along the supply chain. Rather than focus solely on compliance, the intent is to recognise good practices where they exist, and to encourage others to adopt them.
Project partners and methodology
TDi Sustainability took on the role of chief strategist and project manager, bringing together key stakeholders at Apple Inc. and the RMI and, given the global standing of our clients, defining a methodology for the project that held up to international scrutiny.