tools
Material change Report
Material change: a study of risks and opportunities for collective action in the materials supply chains of the automotive and electronics industries.
Environmental, social and governance issues associated with corporate supply chains and the sourcing of materials used in the manufacture of industrial and consumer products are subject to increasing scrutiny.
Regulators, investors, consumers and environmental and human-rights groups are appealing to companies to complete and publicly disclose the results of supplier due diligence as well as include commitments to social responsibility in their sourcing policies. Drive Sustainability and the Responsible Minerals Initiative recognise that collaborative action between businesses, across industries, and with governments and civil society is a powerful tool to address some of the serious social and environmental problems affecting workers and communities in countries where many of these materials originate.
Navigating the path to achieve this is not simple, however. The supply chains of businesses today are highly complex. They extend to multiple tiers, and to thousands of suppliers operating across the globe. Significant volumes of materials are sourced from countries with weak governance or where resource production is sometimes associated with adverse environmental and social impacts.
One of the biggest obstacles to setting and implementing strategies for responsible sourcing is getting access to reliable current data and analysis on the environmental and social dimensions of material production and processing. Material Change aims to positively contribute by gathering and presenting the best publicly available information on materials commonly used in the automotive and electronics industries.
Material change – understanding supply chain risks
Material Change was commissioned by Drive Sustainability and the Responsible Minerals Initiative and produced by TDi Sustainability (TDI), to present a broad assessment of 37 materials used within automotive and electronics supply chains. The study aims to enable industry-wide comparisons of the materials' and main producer countries' environmental, social and governance issues and their importance in the manufacturing of automotive and electronic products.
The study recognises that businesses and entire industries working together can catalyse lasting change to improve peoples' lives and reduce pressures on vulnerable ecosystems in resource-producing countries. Material Change aims to be a starting point from which to stimulate an exchange of information about where collective actions by industry groups or trade associations might best be focussed to maximise positive social, environmental and governance impacts.

Drive Sustainability
Stefan Crets, Executive Director
This study represents the first deliverable of the Raw Materials Observatory for Drive Sustainability's partners and is setting the basis for our future collaboration to enhance sustainability in our supply chain as we are committed to make our vision a reality.
Specialist business advisory firm TDi Sustainability completed in-depth research and analysis for the study, which includes detailed profiles for some of the most commonly found materials in the product components of the electronics and automotive OEMs.
TDi CEO Assheton Carter observes, 'One of the biggest obstacles to setting and implementing strategies for responsible sourcing is the difficulty in accessing reliable and current data and analysis. Our aim is to gather, analyse and, in this report, to present best available information on materials to enable a better understanding of the issues associated with their global production.'
The results of the study will help inform the action plans of Drive and RMI members as they strive for positive impacts on upstream communities.
Download the full report for free
We are interested to know who is reading and benefiting from this report. Please supply your details below to receive a link to download the report for free. Note that this information is for internal reference only.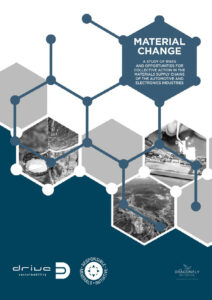 Drive Sustainability
Drive Sustainability is a partnership of 10 leading automotive companies that work together to improve sustainability in the supply chain.
Starting in 2012, its members have assessed over 20,000 suppliers in more than 100 countries and engaged over 1500 suppliers in capacity building initiatives. Over 40 training sessions have been conducted in 10 countries. Drive Sustainability operates under strict anti-trust policies. For more information, visit drivesustainability.org
Relevant associations & initiatives
Responsible Business Alliance
Rob Lederer, Executive Director
This study is a great starting point to help companies identify and prioritise salient social, environmental and governance risks and will help us facilitate collective engagement to drive positive impact in raw material supply chains.