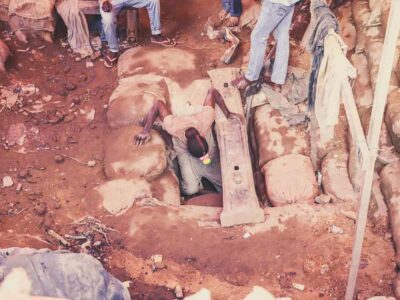 Impact
5th June 2020
Leading The Charge For Change – Our Chance To Transform The Cobalt Mining Sector
BY ASSHETON CARTER & DAVID STURMES
For the last 1.5 years, our TDI Impact team at the Impact Facility have been working with Fairphone, Signify and Huayou Cobalt to develop a programme that addresses the most urgent issues associated with the production of cobalt by artisanal miners in the Democratic Republic of Congo. As we are preparing for the public launch of our action platform, we felt the need to contribute to the discourse around artisanal mining of cobalt. Critically asking: What needs to happen to improve working conditions at artisanal mine sites and what is the downstream's role in this?
Many hopes have been pinned on cobalt and its role in enabling a global transition to a green, technology-driven economy. Most electric vehicles (EVs) and smartphones use batteries with cathodes comprising nickel, manganese and, critically, cobalt. Given the relatively high cost of the mineral, battery manufacturers try to minimize cobalt content, but engineers struggle to remove it altogether. Cobalt is tightly linked to battery performance as it helps stabilise the battery during recharging. This means that as the production of EVs and the demand for large energy storage facilities increases, the market is looking for responsible sources of cobalt.
For a more sustainable and ethical supply chain, it could be argued that companies should seek to source recycled cobalt instead of newly mined material, following the basic rule to reduce, reuse, and recycle. Opting for recycled materials would appear to be an elegant solution to not only reduce the environmental footprint through a circular cobalt supply chain, but also to refrain from fuelling the challenges associated with the exploitation of newly mined cobalt. While we see an inherent value in recycling and laud the efforts that are put into further developing existing recycling technology, it is generally foreseen that cobalt demand will far exceed the amount of cobalt in rotation through recycling schemes. This means that cobalt mining will need to continue to satisfy a growing hunger for batteries to power electric vehicles, smartphones and other mobile devices in the foreseeable future.  
The above graph illustrates the demand and supply of cobalt until the year 2030, including historical data from the last four years and forecasting a rapidly growing demand, exceeding the amount of cobalt available. Underlying data already assumes an uptake of recycling as well as the start of cobalt mining operations outside the DRC.
(Source: Alves Dias P., Blagoeva D., Pavel C., Arvanitidis N., 2018)
Public discourse around cobalt, however, has predominantly been negative. Journalists and rights groups have drawn attention to the association of cobalt with serious human rights violations and appalling working conditions at the artisanal mines in Lualaba Province, Democratic Republic of the Congo, from where much of the raw material originates. This creates a dichotomy between cobalt as a key to reach a clean, carbon-free future on the one hand, and its production being characterised by systemic child labour, hazardous working conditions and a dismal reputation for the protection of human rights. 
Throwing into sharp relief the unacceptable practices of some mine operations and the dire circumstances of mine workers, makes for compelling headlines, but can also lead to unintended consequences. Presented with the option to not source from places considered high risk, most manufacturing companies would willingly opt out. But by doing so, the very people whose lives are most affected – for whom the risk is the greatest – can be left bereft of a livelihood: the very thing that sustains their families and communities.
From where then, should companies source their cobalt?
To continue reading and access the full article, please head to the Impact Facility's blog.