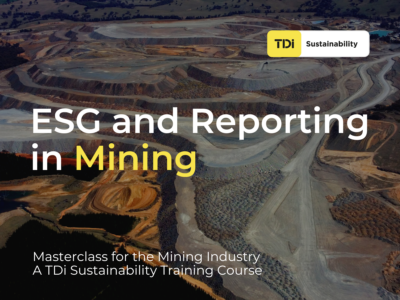 Mining
24th November 2022
New ESG Masterclass for the Mining Industry
"ESG remains the top risk and opportunity for mining and metals companies"
"If companies think by 2050 net zero carbon will be the minimum expectation they will be mistaken. Differentiation will come to those that are net positive on all aspects of ESG. Miners need to go beyond policy and have a holistic approach to ESG to gain investor confidence and community trust."
Junior mining and development companies have traditionally depended on their exploration results and the news they can present to the market to be able to attract additional financing to grow their enterprises. That crucial investment has typically come from financial investors via equity and shares or larger mining companies through partnership agreements.
With critical minerals a key component in the green transition and race to net zero, a growing number of specialized ESG investors are embracing the opportunities that younger mining companies with strong ESG credentials can offer.
As the climate crisis becomes an increasingly pressing issue, traditional investors looking to take on junior mining and extraction companies are also prioritising those with robust and proactive ESG strategies that go beyond statutory box ticking or traditional risk management. 
Junior companies who are able to demonstrate how ESG is embedded into their business's core infrastructure are attracting a larger pool of capital from a wider range of investors. Which means the expectations on smaller organisations to have strong knowledge and plans in place are rising. 
But for junior mining companies – who generally exist within a short lifespan and therefore have a tight time period and limited financial resources with which to achieve their crucial growth – creating a robust and credible ESG strategy can be a huge challenge. Auditing and reporting, traceability systems, water use, greenhouse gas emissions, indigenous people's rights in surrounding communities, ensuring they retain their social license to operate… For fledgling organisations to prove they have the pillars in place that will enable them to stand the test of time, the list is growing ever more complex.
The kinds of ESG strategies that we create for some of the world's largest mining companies at TDi Sustainability are the product of significant research and bespoke strategy decisions, reinforced by auditing and reporting infrastructures that ensure watertight implementation. 
So how do junior mining companies with limited financials afford to acquire the knowledge, tools and strategy creation that complex ESG reporting now requires?
To offer our support, we're opening up our 30 years of industry expertise to help junior mining and prospecting companies get ahead of the game with a new masterclass tailored to provide all the tools needed to develop a robust and practicable ESG strategy.
This accessible training will cover the six essential pillars of knowledge that discerning investors are looking for:
1.      The Move Towards Net-Zero: Carbon Accounting & Offsets in the Mining Sector
2.      Social License to Operate, Indigenous People's Rights & Free Prior Informed Consent
3.      The Evolving Landscape of Regulatory Compliance
4.      Sustainability Reporting
5.      How to address the United Nations Guiding Principles on Business and Human Rights (UNGPs)
6.      Voluntary Sustainability Standards, Traceability & Market Access
Junior mining companies enrolled on this tailored ESG training will be given the knowledge and tools to:
·      Build among the company leadership a clear understanding of current ESG trends and expectations from market, investors, regulators, and other private sector on their Environmental, Social and Government (ESG) performance.
·      Gain a strong understanding of country dynamics, risks and opportunities that may provide enough information for an investment decision.
·      Measure and evaluate their current performance and gaps against international standards and help them elaborate a road map towards improvement.
·      Develop or optimize an ESG strategy that allows them to properly identify and manage environmental, political, social, and regulatory contexts. 
·      Showcase their best ESG practices through a robust communication strategy, encompassing social impact KPIs, sustainability reports, case studies, management of social networks and all that's needed for precise and effective messaging.
·      Secure stakeholder acceptance required to pursue further exploration and prospecting activities (i.e. free prior informed consent, small scale mining initiatives, social license, responsible sourcing).
·      Identify and support highly impactful strategic and budget efficient community development initiatives.
·      Strengthen the company's narrative to engage investors and other potential partners who can help to ensure their company financial viability and growth. 
The masterclass has been designed to be as accessible as possible for junior mining and prospecting organisations to take that defining step which will enable them to stand out from the crowd and attract better quality investments from a wider pool of capital.
Teaching takes place through a series of online webinars in February 2023 and includes one-to-one support to discuss your mine's unique needs. 
Total cost: £2000. 
Registration for the masterclass is now open. 
Places are limited and registration closes 13 January 2023.