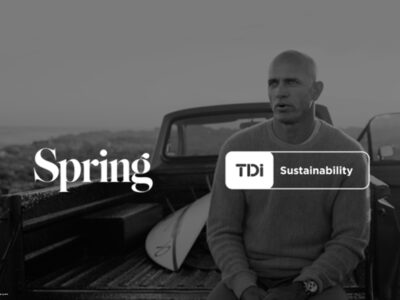 Communications
23rd April 2021
TDi Sustainability & SPRING STUDIOS: A Partnership for Sustainability
TDi Sustainability, is proud to announce a partnership with Spring Studios, a global agency creating communications for the fashion, luxury and lifestyle industries
The collaboration of these two global players has been created to support brands with their strategic journey of environmental and social sustainability. It will create value for both the brand and their stakeholders, including employees, customers, and local communities. TDi Sustainability's technical skills and Spring Studios' communication expertise will combine to provide comprehensive sustainability paths, credible and effective initiatives. This will aim to establish an institutional, business and consumer facing communication plan resulting in immediate growth in perceived brand meaningfulness.
The role of TDi Sustainability will be to create value by integrating sustainability into the corporate strategy. TDi will take care of offering the most suitable tools to improve and streamline processes, systems, and cultural approaches within the company to make it more ecological, sensitive to social issues and sustainable.
Spring Studios began to identify integrated campaigns with sustainability at the core of the creative proposal. This has led them to gain extensive understanding of the topic, and experience in how to deliver such an important message in the most effective, understandable, and credible way, by identifying the suitable communication platforms and tone of voice.
These two core focuses share a common matrix of values ​​linked to a circular economy, sustainability, and inclusion. This joint vision translates into an innovative offering which represents a tangible investment opportunity for all brands operating in the luxury, beauty, lifestyle, jewellery and automotive sectors.
"To create sustainable value for business, people and planet, we have to combine technical knowledge and management of environmental and social impacts, with the ability to comunicate authentically about brands' commitments and progress. This marriage between Spring Studio and TDi Sustainability will allow us to offer a unique, integrated service for our clients", says Assheton Stewart Carter, CEO of TDi Sustainability. 
"The partnership between Spring Studios and TDI Sustainability was made possible by a shared vision and set of values deeply rooted in Spring Studios' DNA. The collaboration allows us to build real brand equity for the clients we support. In the last two years, 50% of the communication contents designed and produced by Spring Studios Milan was related to circular economy, inclusivity, and social sustainability ", said Antonella De Nicola Chief & Insight Officer Spring Studios Milan.